SMDC Trees Residences - LOCATION
Trees Residences is Located at Brgy. Pasong Putik, Novaliches, Quezon City
Within the trees residences, locality is major establishments such as business centers which are also termed as commercial centers. The establishments provide an alternative destination rather than heading directly to the metropolitan area. The residences are a stone`s throw distance from the metropolitan area hence easily accessible from the city. The neighborhood within these residences is quiet and perfect for various activities such as business functions and bringing up a growing family. The close proximity to the urban center makes it easy for you to access the city and run any intended business.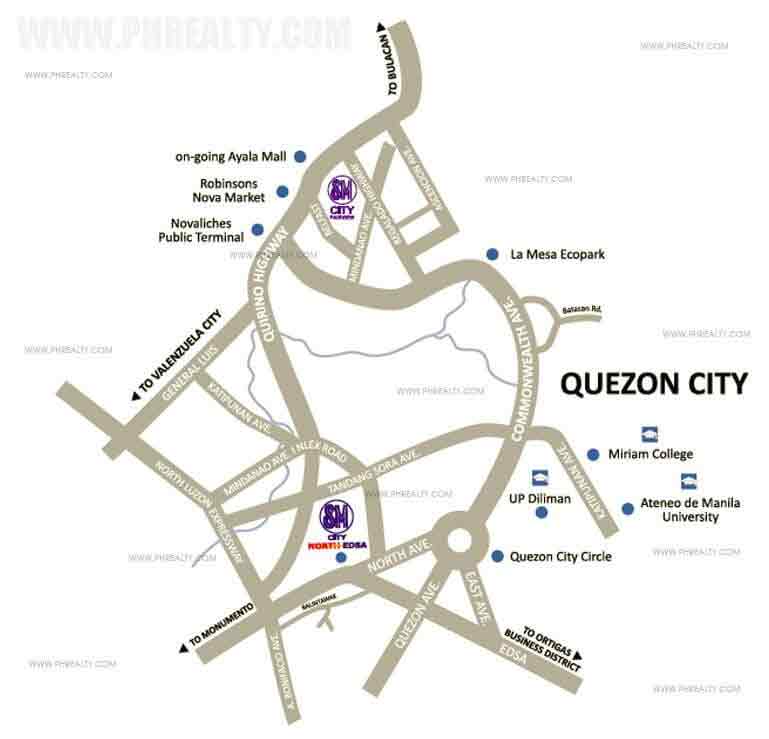 These residences are neighbored by major establishments which include shopping malls, restaurants, pubs, the Quezon City Memorial Circle, nature parks, hospitals, schools, churches, banks. The shopping malls nearby include Fairview Terraces Mall and the SM City Fairview. The shopping malls provide you with all the basics you require while at trees residences. The Quezon City Memorial Circle is an only nineteen-minute drive away from these residences.

The nature parks within these residences include La Mesa Eco Park and the Ninoy Aquino Park. Wildlife is within reach due to the presence of the parks. The parks are open to all, therefore, you can take your family and friends for a nature tour to the parks. There are pubs in the vicinity, therefore, you can visit these places if you are not a teetotaler. There are restaurants around which provide a wide range of delicacies from which you can choose your desired dish.

The hospitals within these residences include the Commonwealth hospital and medical center, San Lorenzo Hospital and the Fairview medical center. These hospitals ensure that you get medical attention if the need arises. The schools within trees residences include Montessori school St. Anthony, Our Lady of Fatima University, Mater Carmeli School as well as the FEU Quezon City. These schools provide a learning environment where you can take your children.

The banks within these residences enhance financial transactions. The churches around include Lagro Presbyterian Church and Ascension of Our Lord Parish. These religious places provide residents with a place of worship where they can bond and grow spiritually. The churches are different hence catering for the different faiths.